"Modeling cigarette smoking disparities between people with and without serious psychological distress in the US, 1997–2100"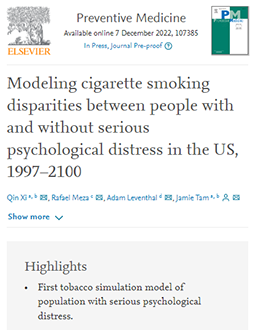 Highlights:
• First tobacco simulation model of population with serious psychological distress.
• 609,000 smoking-attributable deaths to occur in this population through 2100.
• Up to 386,000 of these premature deaths could be averted in the population.
• Trends in disparities depend on the type of metric used: absolute or relative.
• Improving cessation for this group leads to large, short-term public health benefit.

AUTHORS: Qin Xi, Rafael Meza, Adam Leventhal, Jamie Tam JOURNAL: Preventive Medicine.
POSTED: Tue Dec 13, 2022