"Are the relevant risk factors being adequately captured in empirical studies of smoking initiation? A machine learning analysis based on the Population Assessment of Tobacco and Health study"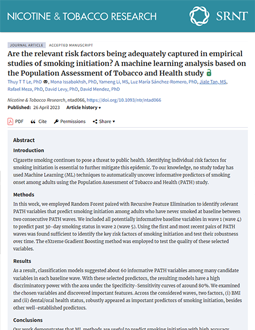 ...this work demonstrates the potential applications of machine learning methods in developing highly accurate classification models to predict smoking initiation using nationally representative survey data and systematically identify all potential risk factors of smoking behaviors in the PATH data. Besides reconfirming well-known risk factors in the literature, our findings discovered additional predictors of smoking initiation that have not been paid much attention to in previous studies.
AUTHORS: Thuy T T Le, PhD, Mona Issabakhsh, PhD, Yameng Li, MS, Luz María Sánchez-Romero, PhD, Jiale Tan, MS, Rafael Meza, PhD, David Levy, PhD, David Mendez, PhD JOURNAL: Nicotine & tobacco research.
POSTED: Tue May 02, 2023